Welcome to the study programme International Economic Relations (Bachelor's degree), language of training is Ukrainian, English.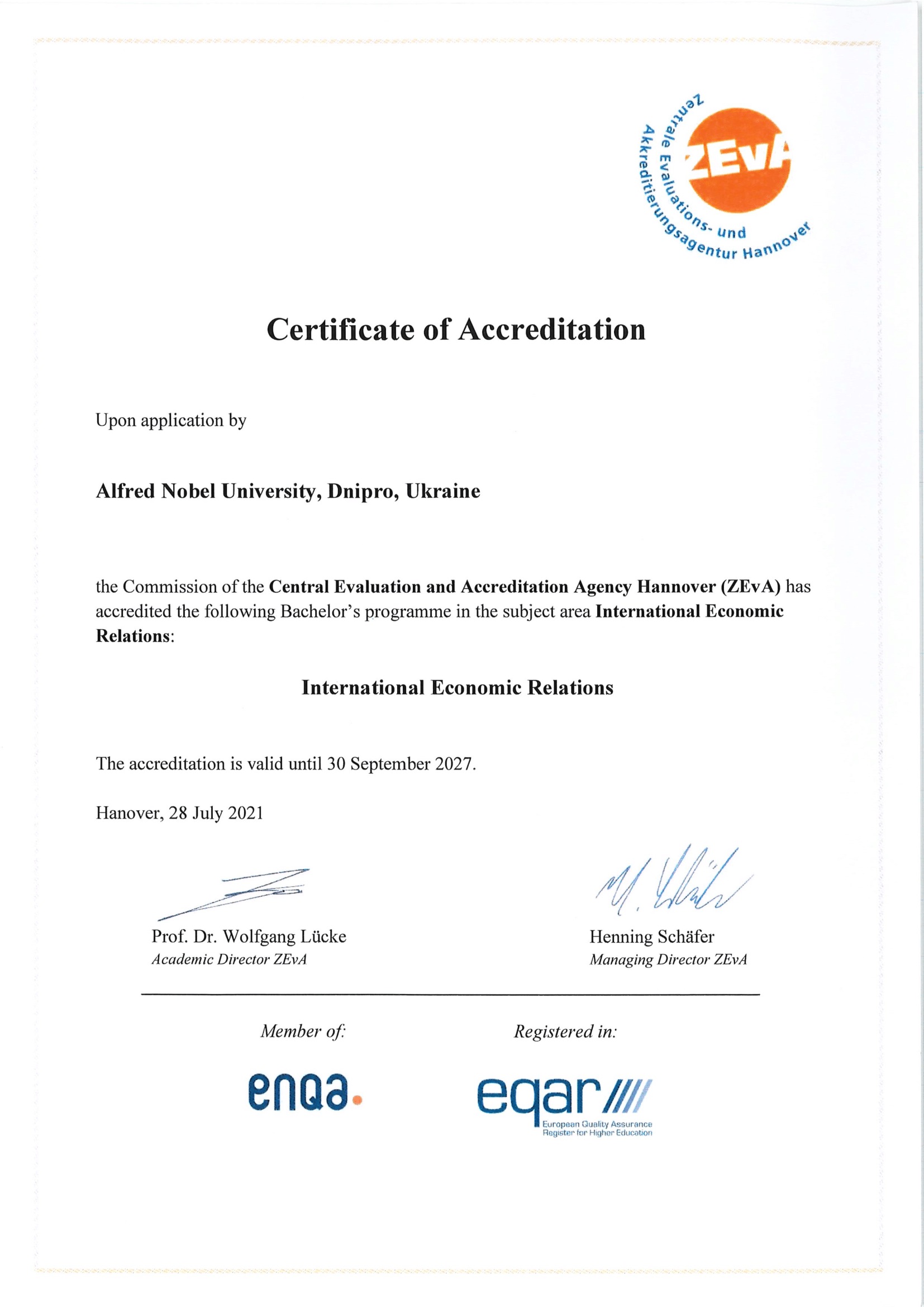 Globalization of the contemporary world entails a heavy demand for graduates who possess the knowledge and skills needed for working in international markets. Graduates majoring in International Economic Relations are professionals in the field of international commodity- monetary and financial relations, development of investment markets and investment assets, and who are able to work both in Ukraine and abroad.
Choosing the specialty "International Economic Relations" at our University, you make a strategically correct choice!
- Today more and more enterprises are involved in international economic activity, and therefore the demand for specialists in international economic relations will only grow;
- The compulsory knowledge of two foreign languages provided by the educational program (the third - at will) considerably increases its competitiveness in the labour market;
- It is possible to study in a unique English-language program validated by the University of Wales Trinity Saint David, and receives a diploma from the British University of International Management.
The Mission of the Study Programme International Economic Relations is training of specialists capable of solving complex problems characterized by the complexity and uncertainty of conditions in the field of international economic activity in general and international management and international investment activities in particular.
We incorporate European approaches and quality standards of higher education. It is the first and the only study programme International Economic Relations (Bachelor's Degree) in Ukraine which is accredited at the international level by ZEvA agency, Hannover (Germany). ZEvA's experts have recognized its compliance with European standards and the Bologna requirements.
Here you will find information about the study programme International Economic Relations (Bachelor's degree) at Alfred Nobel University (Dnipro, Ukraine).
Contact
Prof. Dr. Anatolii Zadoia
Head of of the Global Economics Department
Sicheslavska Naberezhna str., 18, Dnipro, 49000, Ukraine, of. 3308
e-mail: This email address is being protected from spambots. You need JavaScript enabled to view it.
tel. mob., Viber, WhatsApp: +38 (050 340 10 26)
Profile
Programme title: International Economic Relations (Bachelor's degree)
Qualification: Bachelor in International Economic Relations
Programme Type: Undergraduate programme
Mode of study: full time, part time
Duration: Four years
Degree awarded: Bachelor's degree
Language of study: English (Full-time), Ukrainian (Full-time, Part-time).
Results of mastery of the study programme: acquisition of basic knowledge of fundamental and applied courses/disciplines necessary for competence of bachelors in international economic relations in domestic and foreign markets
Professional knowledge and skills obtained as a result of completing the programme.
On successful completion of the programme a student should be able to:
Realize the need for professional self-improvement and lifelong learning, show tolerance and readiness for innovative change.
Communicate freely on professional issues in state and foreign languages orally and in writing, professionally use economic terminology.
Use modern information and communication technologies, general and special purpose software packages.
Plan, organize, motivate, evaluate and increase the effectiveness of teamwork, conduct research in a group.
Apply the acquired theoretical knowledge to solve practical problems and meaningfully interpret the results.
Understand and be able to apply modern theories and methods of solving specialized complex problems in the field of international trade in goods and services, international capital movements, international monetary and financial relations, human resources mobility, international technology transfer.
Select and apply analytical tools to study international markets for goods and services using modern knowledge of methods, forms and tools of regulation
Understand and apply theories, principles, tools and instruments for the implementation of international monetary, financial and credit relations.
Understand and have skills in business protocol and business etiquette in the field of international economic relations
Investigate the international investment climate and assess the investment attractiveness of international projects.
Understand and use the features of management decisions in the field of international economic activity.
We offer you:
An internationally recognized, practically based education in international economic relations
Modern forms of teaching and learning which correspond to European standards and the Bologna Declaration
Courses taught by experienced lecturers and professors who have completed internships at leading universities in Western Europe
Master classes conducted by business experts and consultants from business schools
Mastery of information systems and technologies in the field of international economic relations by using up- to-date software products
The opportunity to study German, French, Spanish and Polish on an optional basis
A modern library and up-to-date study literature
Programme requirements (ECTS credits).
In accordance with the Standard on higher education set for the programme of Bachelor in International Economic Relations, 240 ECTS credits are awarded in total. The curriculum of the study programme International Economic Relations (Bachelor degree) incorporates: mandatory courses (144.5 ECTS credits), elective courses (70 ECTS credits). Professional training which includes internship – 16.5 ECTS credits. The Final Examination (9 ECTS credits) comprises: Qualification Exam in Business Foreign Language (1.5 ECTS credits) and Bachelor's Thesis (7.5 ECTS credits)*.
*the ratio of credits between parts of the programme may vary slightly from year to year
Educational goals of the Programme
The study programme International Economic Relations (Bachelor degree) aims to provide students with the understanding of the principles of functioning and development of the world economy, forms of international economic relations, motivation and behaviour of the subjects of international economic relations. In addition, students are required to identify and analyse business problems and evaluate alternative solutions. The programme's philosophy is underpinned by a commitment to developing students as independent autonomous learners, keen to pursue knowledge and understanding in and outside the classroom.
Our graduates possess specific professional competences which facilitate their effective activity in the sphere of international economic relations. They, in particular, are:
Ability to use a systematic approach to the analysis of patterns and trends of development of the system of international economic
Capacity for analysis and forecasting of dynamics of the international trade
Ability to collect and analyse data required for the evaluation of international competitiveness of a business
Ability to develop and justify the suggestions for improvement of management decisions in the sphere of foreign economic
Mastery of methods of analytical work related to the financial aspects of the activities of professional participants of the international financial
Ability to organize the work of an external economic department, conclude and carry out foreign economic operations, taking into account the criteria of legal compliance and cost
Ability to carry out the procedures of export/import
Ability to conduct research with the use of international databases on problems of international economic
Ability to evaluate and make decisions regarding international investment processes.
Command of a foreign language at a professional level and a second foreign language at the level of everyday
European quality of education.
Professionally Oriented Courses Offered
Marketing
Management and Administration (Basic of Management)
Accounting
Finance, Money and Credit
Foreign Language (Business Foreign Language)
International Economic Relations
International Marketing
Enterprise's Foreign Economic Activity
International Finance Relations
International Investment Activity
International Trade
Second Foreign Language
Economy and Foreign Economic Activity of Ukraine
Economy of Foreign Countries
Eurointegration
Etiquette and Basics of International Protocol
Human Resources Management
Foreign Language (for Specific Purposes)
Public Relations in International Relations
World Economic Situation
Transnationalization of the World Economy
History of International Economic Relations
International Banking
Accounting in the Foreign Countries
Methodology of International Market Research
International Economic Law
Institutions of International Economic Policy
International Management
International Organizations
Enterprise's Foreign Economic Activity (Operations and Contracts)
International Mobility and Double Degree Programmes
Student exchange programmes are conducted jointly with partner universities in United Kingdom, France, Poland, Spain, Turkey, Germany and others.
Career Prospects
The programme orients students to the following areas of professional career development:
- Heads of financial, economic, departments and departments of foreign economic activity;
- Managers of international projects and programs;
- Managers of small and medium enterprises that carry out international activities;
- Managers in foreign trade;
- Managers in international finance activities;
- Researchers of international markets, consultants on foreign economic activities and management;
- Specialists in international finance and international trade;
- Assistant managers in foreign missions
Also many our graduates have succeeded in starting their own businesses.
Enrollment requirements
Admission Regulations of Alfred Nobel University for 2020
Enrollment requirements to study programme "International Economic Relations" (Bachelor's degree):
For Ukrainian citizens (in Ukrainian)
For foreign citizens (in English)
HOW TO APPLY (for international students) CLICK HERE
More information about the programme:
Structure of the Study Programme "International Economic Relations" (Bachelor's degree)
The Intended Learning Outcomes for the Study Programme "International Economic Relations" (Bachelor's degree)
The Catalogue of courses for the Study Programme "International Economic Relations" (Bachelor's degree)