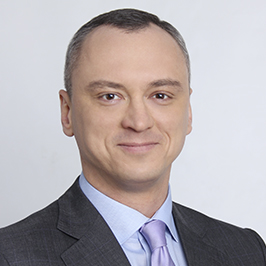 Rector of Alfred Nobel University, Doctor of Economics, Associate Professor
Dissertation: "Infrastructural support of self-development at the meso level: concept and methodology".
Graduated from Dnipropetrovsk University of Economics and Law (now Alfred Nobel University). Studied at the School of Management Consultants at the Russian Academy of National Economy and Public Administration, as well as at language school in Great Britain.
Director of the Dnipro Regional Charitable Foundation "Ukrainian-Polish Centre for promoting development of management, entrepreneurship and investment".
Co-author of the project to create and organize the activities of the TV and Radio Company "Commonwealth" (27 TV channel) at Alfred Nobel University.
Cooperates with European structures in the field of higher education, information technology, management of higher education, as well as grantors.
Co-author of the project management system, media planning methods at Alfred Nobel University, co-author of information and analytical centers in Kyiv and Dnipro to involve a wide range of scientific and business community in Ukraine and Poland.
Co-developer of measures for preparation and implementation of investment projects within the Ukrainian-Polish Centre for Energy Saving Technologies, implementation of modern training systems for privately owned free economic zones using Poland's experience in adapting educational processes to EU requirements and standards.
Author and organizer of conferences, round tables, economic, business forums and other meetings with public figures, business representatives, students at the regional and international levels.