Welcome to the study programme Marketing (Bachelor's degree), language of training is Ukrainian, English.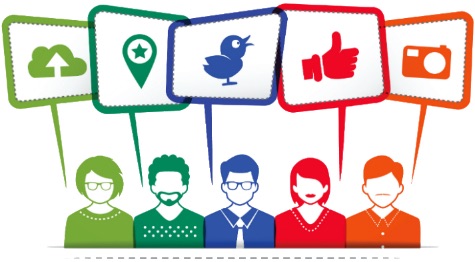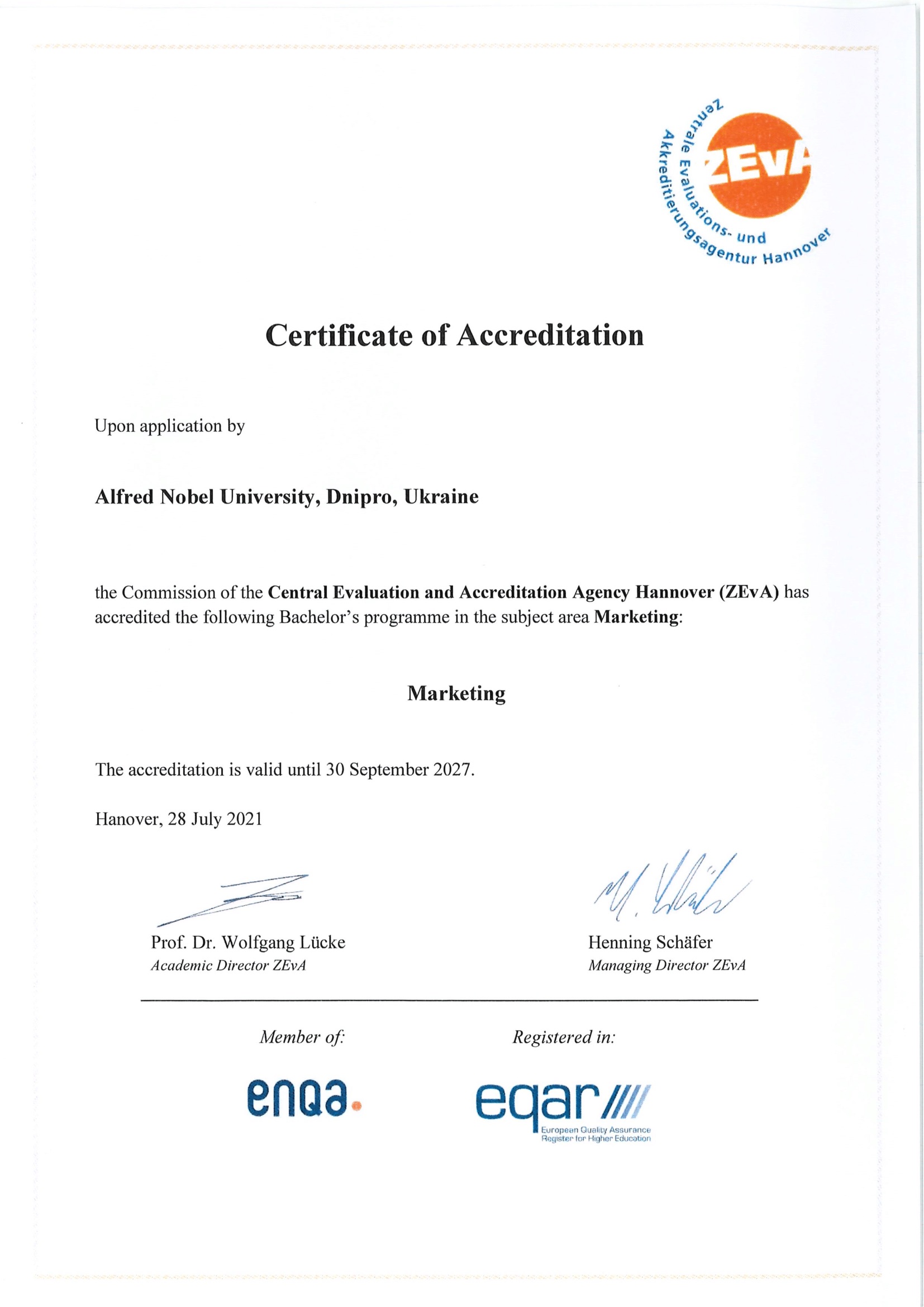 Nowadays marketing has become a key element in any business. Companies in different industries cannot achieve great success and improve their competitiveness in both domestic and international markets without implementation of marketing tools to manage demand for their goods and services.
The mission of the study programme Marketing (Bachelor's degree) is to train fully qualified, socially responsible marketers who possess all-round basic professional knowledge and skills corresponding to the demands of the modern labour market in order to ensure the competitiveness of their companies and national economies in the global context.
We incorporate European approaches and quality standards of higher education. It is the first and the only Bachelor's programme in Marketing in Ukraine which is accredited at the international level by ZEvA agency, Hannover (Germany). ZEvA's experts have recognized its compliance with European standards and the Bologna requirements.
Here you will find information about the study programme Marketing (Bachelor's degree) at Alfred Nobel University (Dnipro, Ukraine).
Contact
Prof. Dr. Iryna Taranenko
Head of Department of International Marketing
Sicheslavska Naberezhna str., 18, Dnipro, 49000, Ukraine Of. 2602, 2607
e-mail: This email address is being protected from spambots. You need JavaScript enabled to view it.
tel. mob., Viber, WhatsApp: +38 (095 750 23 63)
Profile
Programme title: Marketing (Bachelor's degree)
Qualification: Bachelor in Marketing
Programme Type: Undergraduate programme
Mode of study: full time, part time
Duration: Four years
Degree awarded: Bachelor's degree
Language of study: English (Full-time), Ukrainian (Full-time, Part-time),
Results of mastery of the study programme: acquisition of basic knowledge of fundamental and applied courses/disciplines necessary for competence of bachelors in marketing in domestic and foreign markets
Professional knowledge and skills obtained as a result of completing the programme:
Research and analysis of domestic and foreign markets, monitoring of the business environment;
Developing a commercial range of goods and working out a pricing policy;
Developing a strategy to enter foreign markets and improve the international competitiveness of a company,
Formation of a positive image of a company and brand in domestic and foreign markets; Arrange advertising and PR campaigns in the global environment;
Organizing and conducting of marketing events (exhibitions, fairs, conferences); Arranging measures for distribution and promotion of goods
Formation of a marketing budget.
We offer you:
An internationally recognized, practically based education in marketing
Modern forms of teaching and learning which correspond to European standards and the Bologna Declaration
Courses taught by experienced lecturers and professors who have completed internships at leading universities in Western Europe
Master classes conducted by business experts and consultants from business schools
Mastery of information systems and technologies in the field of marketing by using up- to-date software products
The opportunity to study German, French, Spanish and Polish on an optional basis
A modern library and up-to-date study literature
Programme requirements (ECTS credits).
In accordance with the Standard on Higher Education set for the programme Marketing (Bachelor's degree), 240 ECTS credits are awarded in total. The curriculum of the programme Marketing (Bachelor's degree) incorporates: mandatory courses (155 ECTS credits) including course papers (3 ECTS credits) and elective courses (61 ECTS credits). Practical training which includes internship – 16,5 ECTS credits. Bachelor's thesis (7.5 ECTS credits).
the ratio of credits between parts of the programme may vary slightly from year to year
Educational goals of the programme.
General goal of the study programme Marketing (Bachelor's degree) is to train, in line with European educational standards, competitive professionals in marketing for organizations and enterprises of all spheres of economic activity, which are able to implement marketing decisions into enterprise management process and have practical skills in using marketing policy mechanisms to achieve business goals.
The programme's objectives are designed to:
ensure training of bachelors in marketing taking into account requirements of the labour market concerning formation of competence and increase of quality by means of introducing innovations in education;
provide basic knowledge of fundamental and applied educational subjects necessary for competence of bachelor in marketing;
familiarise students with effective marketing tools to manage demand for goods and services of an enterprise, establish and maintain competitive advantage in the market;
prepare specialists for organisations and enterprises of all branches of economics which are able to integrate marketing solutions to enterprise management; possess practical skills of using mechanisms of marketing policy to achieve business goals of an enterprise and increase business value;
develop in students the ability to apply the knowledge and skills they have acquired to both theoretical and applied problems in marketing;
develop the student's powers of analysis and judgement;
develop graduates as social individuals which are ready to solve certain problems and tasks of communicative and social activity.
provide students with the knowledge and skill base, from which they can proceed to further studies in marketing, economics and management, business administration etc., related areas or in multidisciplinary areas that involve marketing, economics and management;
develop in students, through their studies, a range of generic skills that will be of value in employment and self-employment as well as in their future career in private or public sector.
Professionally Oriented Courses Offered
Marketing
Management
Accounting
Finance
Information technologies in marketing
Marketing research
Consumer behaviour
B2B Marketing
Marketing communications
Logistics
Advertising and promotional activities
International marketing
Marketing product policy
Public relations
Marketing price formation
Marketing services
Marketing channels of distribution
Modern marketing technologies and sales management
Management accounting
Marketing audit.
International Mobility and Double Degree Programmes
Student exchange programmes are conducted jointly with partner universities in France, Poland, Spain, Turkey, Germany and others.
Career Prospects
Graduates are in demand in all branches of business, not only at the national level, but also in the European-wide market and global purchasing and sales markets. In the future, increasing demand for skilled employees with this background will be generated by the following types of employers:
Small and middle-sized firms with an expanding presence in developing and developed countries
Large, multinational industrial enterprises
Export and import companies
International and domestic organizations, institutions, and business
Also many our graduates have succeeded in starting their own businesses.
Enrollment requirements.
Admission Regulations of Alfred Nobel University for 2020
Enrollment requirements to study programme "Marketing" (Bachelor's degree):
For Ukrainian citizens (in Ukrainian)
For foreign citizens (in English)
HOW TO APPLY (for international students) CLICK HERE
More information about the programme:
Structure of the Study Programme "Marketing" (Bachelor's degree)
The Intended Learning Outcomes for the Study Programme "Marketing" (Bachelor's degree)
The Catalogue of courses for the Study Programme "Marketing" (Bachelor's degree)